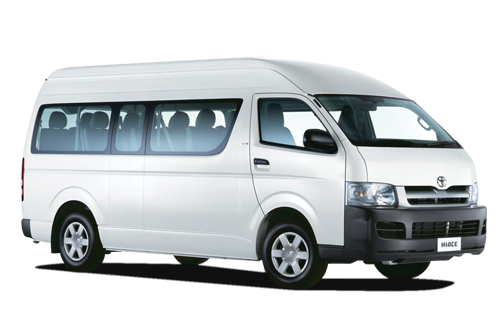 Toyota Commuter Hiace 10+1 Seater
---
Extra hour : RS.2000
Extra Km : Rs.200
Vauxhall Movano 10+1 Seater
---
Extra hour : Rs.2000
Extra Km : Rs.200
Best Luxury Vans for Hire Available at Kings of Car Hire
Moving out in groups need not be a chaotic affair. A lot depends upon the way you plan your logistics. Having 2-3 or fleet of cars is sometimes not feasible and the crew becomes difficult to coordinate too. To provide the best solution for your group outings, Kings of Car Hire has rolled out much-awaited plan luxury van on hire for its patrons.
We, at Kings of Car Hire, are offering two luxury vans which are no less than sturdy beasts but high on sophistication.
Toyota Commuter Hiace 10+1 Seater
This 10+1 Seater from Toyota is excellent commuting support for both intra- and inter-city movements. The top features of Toyota Commuter Hiace 10+1 Seater are ample space for luggage inside, sufficient leg space, reverse camera, fog lights, and etc. Equipped with the best features, this luxury 10 seater offers you pure comfort on the road. This spacious 10-seater from Toyota and our impeccable service together can make your outing in Mumbai a thing of pure delight. You can fit in up to 10 people in this luxury van including driver and take it as many places as you want for 8 hours a day. To suit your requirements to the best, we have tailor-fit plans made only for you. So, talk to us today to find what deal comes to you when you opt to hire Toyota Commuter Hiace 10+1 Seater with us.
Vauxhall Movano 10+1 Seater
Vauxhall Movano 10+1 Seater is a luxury passenger carrier designed to provide you both safety and comfort on road. Having the sturdiest of features and finest looks, this 10+1 seater defies the fact that huge has to be boring. With quality and class packed in every inch of this luxury van, your outing in Mumbai with family or friends is going to be pure fun. Our deals for 10-seaters are unbeatable and well-trained, experienced, police-verified drivers offer you all the safety you need to hop on to that fun ride leaving all worries at home.
Book today for the best deals
Our luxury van hire service is high in demand and why would it not be? The deals here are the most affordable in town and have added flexibility to offer you peace of mind when you are moving through traffic packed roads. Every penny you spend with us is penny earned in the form of classy experience that you build while moving out on Mumbai roads with our luxury vans.
Ask for outstation tour plans too!
We are also available to take care of your tour to outstation parts from Mumbai. The luxury van hire service of ours can be modified as per your needs for travelling to outstation. Whether it is a corporate tour to nearby location or plan of attending a wedding with close friends and family, you can safely count on us for your travelling needs.
So, reach us for the latest in luxury vans on hire today; our impeccable service would compel you to save our number on your speed dial list, for sure!